ALMACO delivered guest and crew areas to expedition vessel SH Minerva
---
Posted on February 24, 2022
The first ship of the Vega series, SH Minerva, has been completed and delivered to Swan Hellenic. ALMACO was in charge of all guest and crew cabins as well as crew public areas. The work was performed at Helsinki Shipyard in Finland.
On December 27, 2021, the magnificent expedition and boutique ship SH Minerva boarded its first guests in Ushuaia and set sail for an adventurous journey to explore stunning untouched nature sceneries from north to south.
Co-operation with Helsinki Shipyard and Swan Hellenic
ALMACO was tasked with designing, procurement, and construction of all of the ships' passenger cabins, crew cabins, and crew public areas. The construction took place at Helsinki Shipyard, a valued client of ALMACO.
"It has been great to work with Helsinki Shipyard and Swan Hellenic on this project", says Esko Ryyppö, Project Manager in charge of the Vega series project at ALMACO. He continues, "The project got off to a good start already in April 2020 and was completed in 1,5 years. We were expecting challenges due to the unstable market situation and took extra precautions to ensure the project was a success. Thanks to the great co-operation with Helsinki Shipyard and Swan Hellenic we were able to deliver the project successfully."
Luxury cabins for guests and crew
SH Minerva offers its guest 76 cabins including 6 suites. The cabin types are Oceanview 19 m2, Balcony 28 m2, Suite 44 m2, and Premium Suite 49 m2. Suite or not, the cabins all offer top-class luxury standard and have all the amenities any guest could dream of. The well-planned cabins are spacious with large bathrooms and they allow comfortable in-room dining with a spectacular view. The interiors onboard have an elegant 'Scandi-luxe' Chic design. With 120 crew members and 152 guests, the number of crew cabins was almost as big as the number of guest cabins in this project. SH Minerva offers its crew members beautiful surroundings and comfortable spacious cabins. Crew wellbeing and high retention are important for Swan Hellenic and they know the motto "happy crew, happy guests" to be true.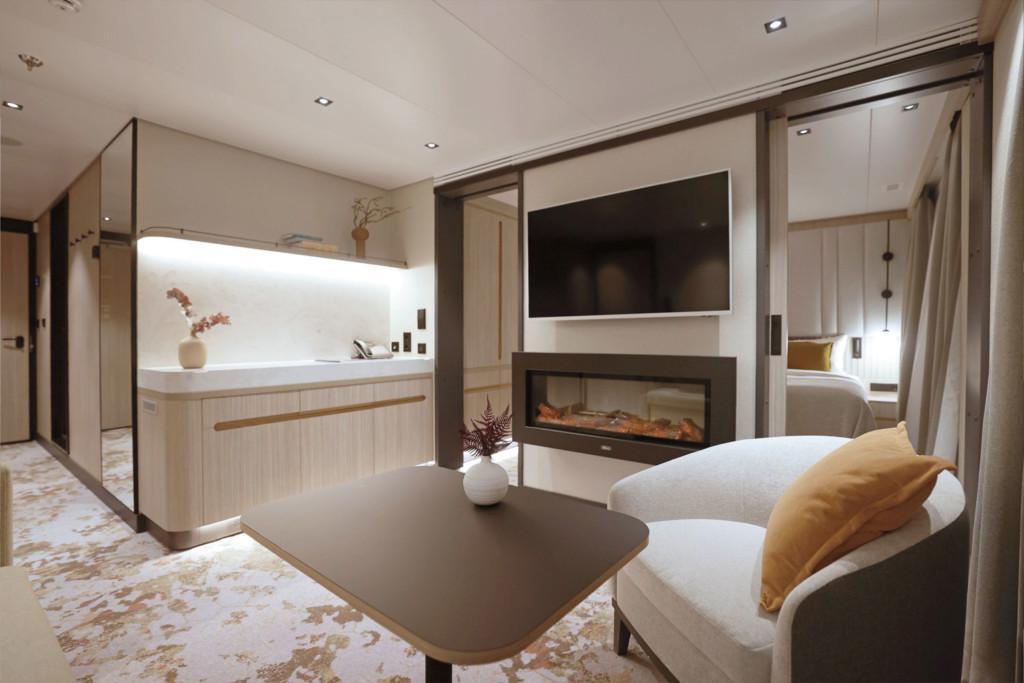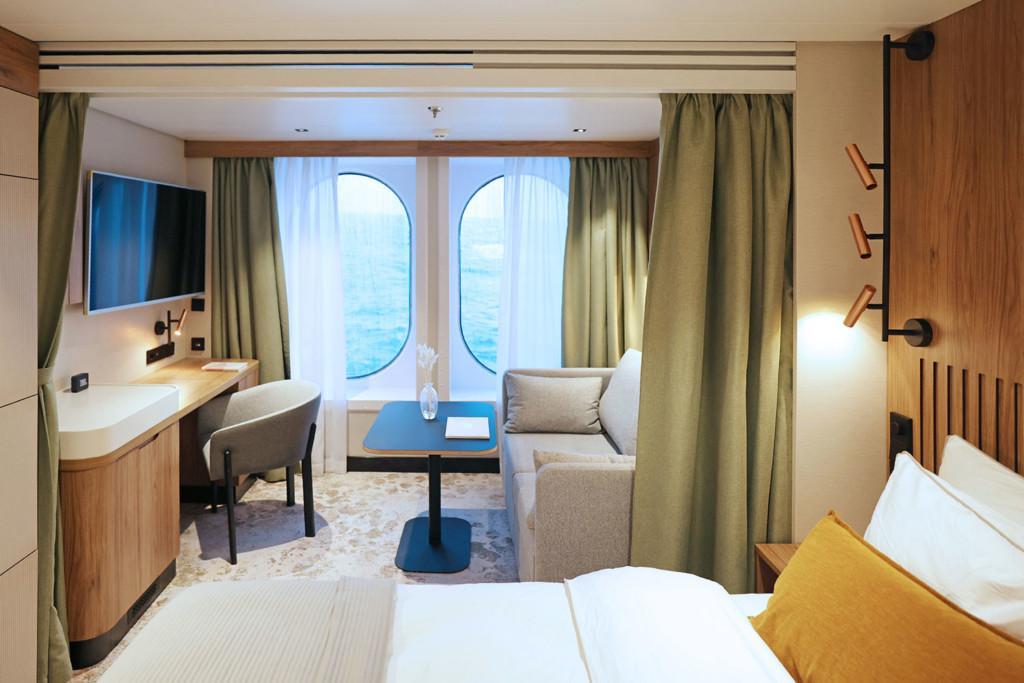 For more information, contact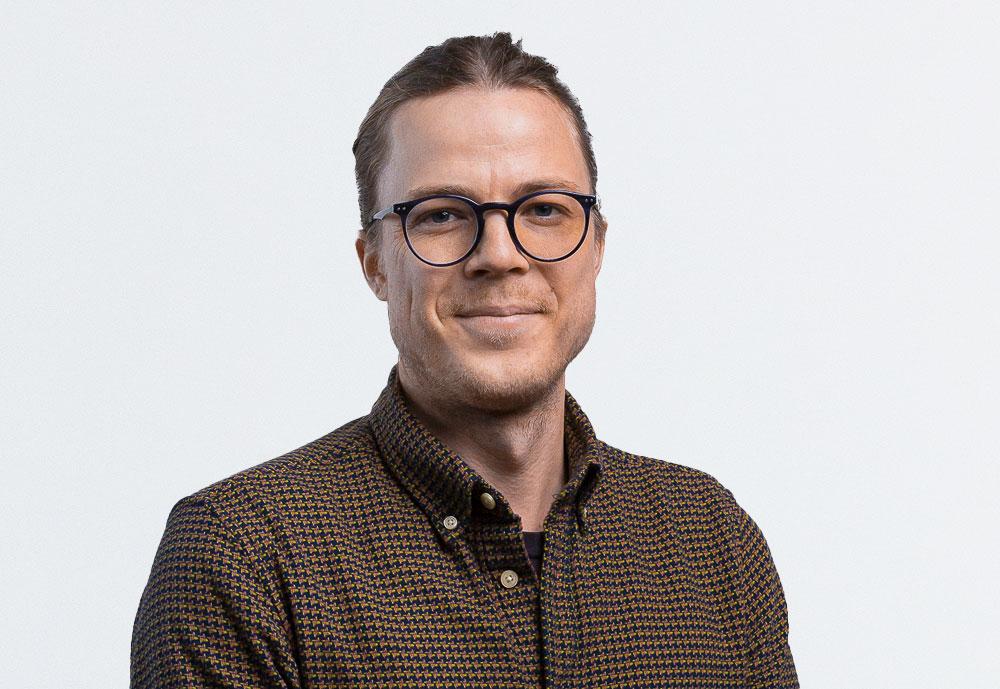 Esko Ryyppö
Project Manager
first.lastname@almaco.cc
About Swan Hellenic
Swan Hellenic is an established, well respected owner-operated heritage brand with more than 7 decades of expertise in undiscovered destinations. The company exists to provide its guests with authentic, intimate and unforgettable moments in extraordinary locations and remote landmarks. All the while enjoying a sophisticated elegant atmosphere onboard. Now, 70 years after its first pioneering cruise, Swan Hellenic is proud to return to the world's waters with two brand new expedition ships. 
About Helsinki Shipyard
Helsinki Shipyard Oy is specialized in demanding marine technology and shipbuilding. The shipyard has long experience in designing and building passenger and cruise vessels and are also known for their icebreakers, as well as for other special vessels for arctic conditions. 
About ALMACO Group
ALMACO Group is a full-service contractor for the new construction and modernization of Accommodation and Catering areas for the Marine and Offshore industries. ALMACO builds and refurbishes complete interiors of marine vessels and offshore units including cabins, wet units, public spaces, galleys, provision stores, refrigeration machinery, and laundries, as well as complete living quarters for offshore accommodations. ALMACO works with owners and builders around the world providing full turnkey solutions comprising design and engineering, project management, spare parts, and maintenance. ALMACO was founded in 1998 and has offices in Brazil, Canada, China, Finland, France, Germany, Italy, Singapore, and the USA. 
READ MORE
News
29.5.2023
ALMACO delivers cabin adaptation project for Safe Zephyrus
In February 2023, ALMACO delivered 40 transformed 3-person standard cabins to Prosafe Rigs, Safe Zephyrus. The successful project took place during sailing between the UK, Las Palmas and Brazil. In…
Read more »
Blogs
29.5.2023
Safe and Comfortable Living Spaces for Offshore Workers
At ALMACO Group, we are world-leading experts in superstructures, living quarters, and modular cabins for offshore facilities, such as drill rigs, drill ships, production platforms and offshore servi…
Read more »
Blogs
15.5.2023
Superstructures built off-site are the way forward in shipbuilding
As a leading marine vessel constructor, ALMACO Group understands the importance of innovation in shipbuilding. Traditional methods may not always be the best option for smaller cruise ships and exped…
Read more »