Ulf Hedberg shares how ALMACO became the global success story that it is today
---
Posted on November 13, 2023
ALMACO Group, celebrating its 25th anniversary this year, has come a long way since its inception. In a delightful conversation with "Uffe," Ulf Hedberg, one of the company's founders and co-owners, he shares his view of the captivating journey that transformed ALMACO from a mere sauna bench idea into the global success story it is today.
ALMACO Stories with Ulf Hedberg, Founder and Co-owner of ALMACO Group
The birth of ALMACO
Many businesses emerge when an opportunity is seized, a market gap remains unfilled, or a groundbreaking idea finds its way to the market. ALMACO's story is no exception. "It all began with my son, Mikael Hedberg, chatting on a sauna bench with his father-in-law, Lars, "Lasse", Pellas," recalls Uffe. "After the sauna session, Mikael called me, brimming with excitement about a new business concept. I was on my way to Lapland for a skiing trip at the time. During that long ride north, we engaged in a lively debate where I scrutinized his idea to the best of my ability. But I couldn't find any flaws," Uffe chuckles. He adds, "However, I wanted to consult my wise friend, Rainer Aalto, before fully committing. When he, too, couldn't identify any weaknesses in the idea, I became convinced it was worth pursuing."
The idea that became our business
Both Mikael and Uffe already had extensive experience in the cruise industry from their time at MacGregor and KONE, giving them valuable insights into cruise owners' needs and challenges. "During our intense discussion that day, Mikael pointed out that several major cruise owners were struggling with refurbishing and servicing their accommodation areas during operations in America. At the time, all the shipyards and expertise were located in Europe, making it impractical for ships operating in the USA. The owners went as far as to invite us to come to Miami to help them out with the cabins. Nobody was doing this at that time, so we were facing a blue ocean situation full of opportunities. When customers are calling for your services before your company even exists, it's usually a sign of a great business opportunity", notes Uffe.
The situation that the cruise industry was facing
The cruise industry was booming in the 70s and 80s, with numerous ships being built in Europe and then sailing to America. However, a decade later, cruise operators realized that they needed to modernize their vessels. This decision was driven not only by wear and tear, but also by a deeper truth – new ships attract more passengers and passengers sought experiences, not just transportation. Experiences become outdated very quickly on a cruise ship. E.g., restaurants need to be upgraded every ten years, while the hull itself has a lifespan of 30 years or more. The industry also faced the challenge of shipyards being fully booked for years in advance. Building new ships was difficult, leading to a loud and clear call for modernization.
However, the cruise ship owners couldn't simply take their ships out of operation and transport them back to Europe for upgrades. "This is where we entered the scene, offering a unique solution," Uffe emphasizes. "This marked not only the birth of ALMACO but also the inception of serving and modernizing ships in America during their operations. We were the pioneers who paved the way."
The first steps with a fearless determination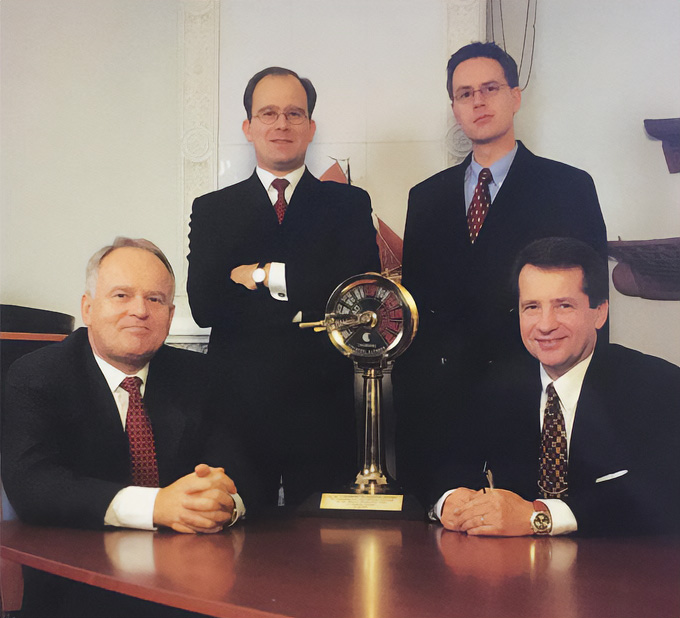 From left to right: Ulf Hedberg, Mikael Hedberg, Antti Kaskinen and Lars Pellas.
ALMACO was founded in October 1998. Besides from Uffe and Mikael, Antti Kaskinen (a longtime friend of Mikael) as well as Lasse Pellas joined in and the four of them became the initial co-owners. A fun fact, ALMACO's name derives from the first two letters of Mikael's and Antti's firstborn children, Alexander and Matias, with "CO" denoting "company."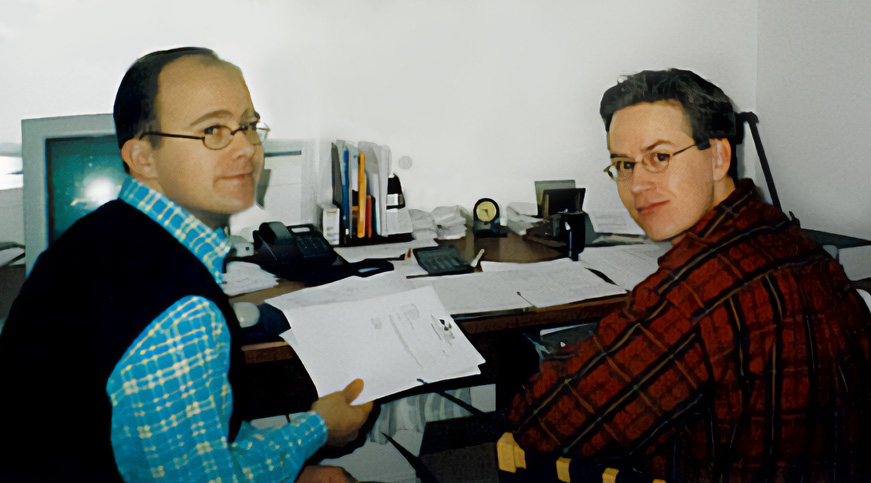 Mikael and Antti sitting in ALMACO's first "official" office space in Uffe's walk-in closet.
Mikael assumed the role of the President and COO, and the team started working on the first business plan. "As we contemplated where to set up an office, my walk-in closet caught my eye. I thought, 'Maybe…' That's how my clothes ended up being evicted, and our first 'office' was established in a space barely large enough for a shared corner desk. As I assembled the desk on the floor outside the closet, a tinge of anxiety crept in, and I thought, 'I really hope this business idea turns out to be a wise decision", Uffe reveals.
ALMACO's recipe for success
When asked how ALMACO succeeded where many startups end up failing within their first years, Uffe immediately identifies the key factors. "First and foremost, while the company was new in the market and started with just four guys, we were far from newcomers in the cruise industry. We knew the market, understood the people and the owners' pain points, and, we had earned their trust. Secondly, we possessed expertise in profitability analysis and acted like a large corporation with proper processes from the beginning. We also held substantial knowledge in project management, procurement, and logistics. Without a fearless President and COO, we wouldn't have been able to tackle the risky and, at times, seemingly impossible projects we delivered in the beginning."
"Initially, what we didn't know was how to build and serve cabins and accommodation areas. Our expertise laid in elevators and hull construction, particularly hatch covers. However, we had a robust plan. We reached out to local yard suppliers who specialized in cabin and accommodation solutions and proposed partnerships. They provided us with the knowledge we needed, and we helped them expand into new markets. This model, based on partnerships and trusted suppliers, remains integral to ALMACO's operations and a significant part of our global success. It was undoubtedly a steep learning curve, but with strong dedication and hard work, we quickly mastered the ropes and undertook ambitious projects," explains Uffe.
A few notable early projects
In the early days, ALMACO was involved in numerous remarkable projects all over the world. Uffe, notes, "Over the last 25 years, we've been a part of countless intriguing projects, making it impossible to mention them all in this interview." Instead, he has chosen to highlight three early projects involving ships owned by Star Cruises and RCCL (Royal Caribbean Cruises) that he feels capture the essence and spirit of ALMACO as a company.
Find out more about these projects by clicking on the plus icons below.
M/S EUROPA, NOW CALLED SUPERSTAR EUROPE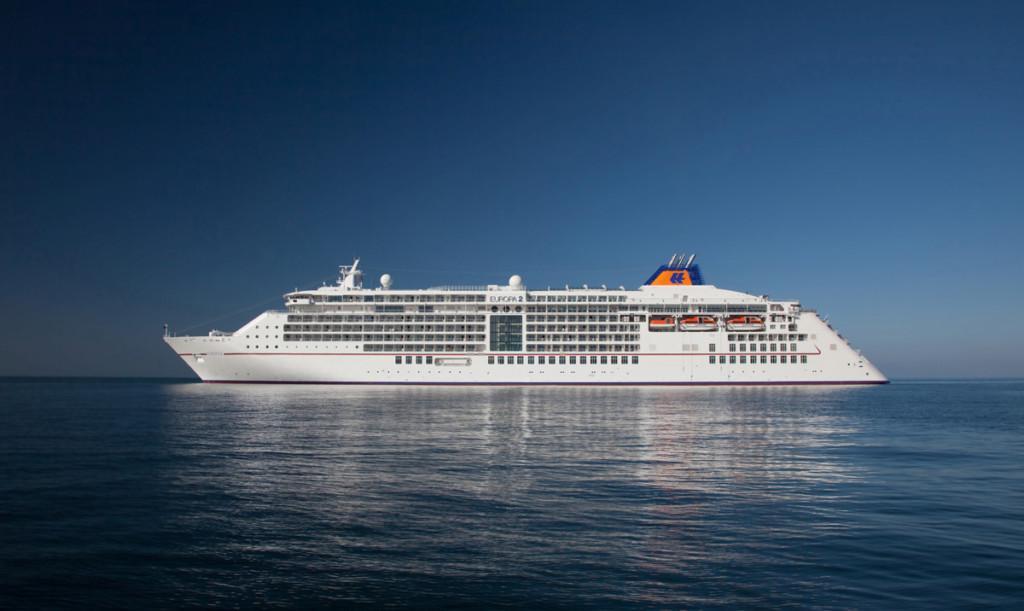 ALMACO's first project was remarkably telling of the nature of the company, which set the tone for all future business endeavors. The project involved the refurbishment of the vessel M/S Europa which had been acquired by Star Cruises, and later became M/S Superstar Europe. The project started in Germany, where the vessel was located, and where the working crew and materials arrived in order for the team to refurbish the ship during her way to Singapore. Uffe recalls, "We were to modernize a 12-year-old cruise ship's rather worn-out cabins into Asian style luxury suites. Star Cruises wanted the modernization done during the 2-weeks sailing from Hamburg, Germany to Singapore, where the job was to be finalized at a local shipyard. The job was performed on time, with top quality results, by approximately 100 shipbuilders coming from 5 European countries."
MONARCH OF THE SEAS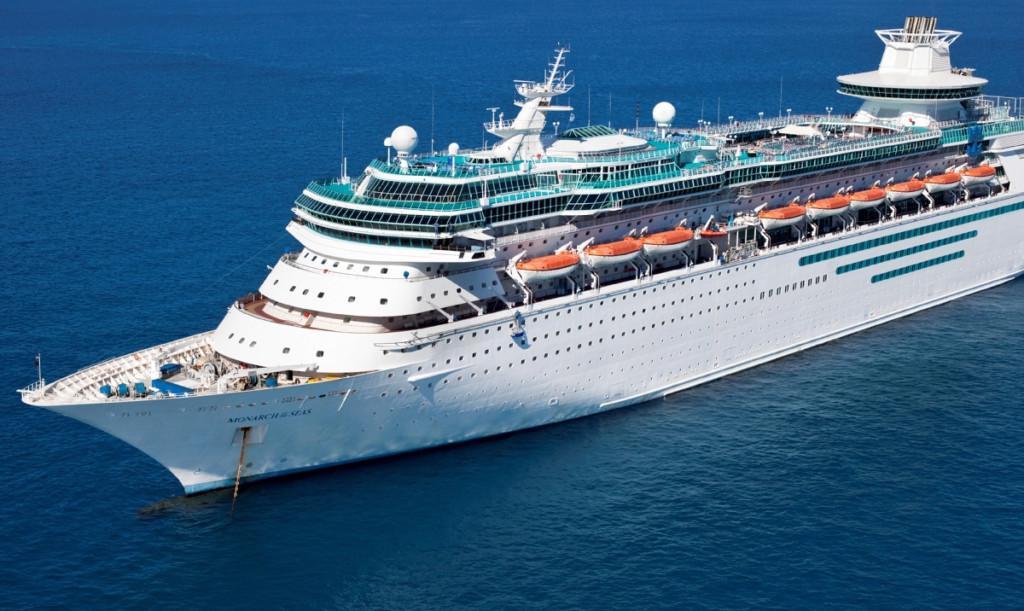 One of the early projects revolved around the ship, M/S Monarch of the Seas. Every aspect, from accommodations to public and catering areas, required an upgrade. The work took place partially during sailing and partly during dry dock at Freeport, Grand Bahamas Shipyard. RCCL chose ALMACO to lead most of the project areas. ALMACO delivered turn-key solutions for seven substantial project areas, from initial feasibility studies and project engineering to commissioning and area handovers.
Uffe recalls, "The owner gave us a tight six-week deadline to pull it off. When we learned about the project's scope and tight schedule, we admittedly felt a little panicked. However, we managed to meet this exceptionally demanding deadline. The modernized ship was presented to the passengers as 'brand new' when it sailed again, and the owner's investment paid off within just a few years. The key was finding solutions that allowed us to work on the ship gradually, closing one deck at a time during the voyage. Our reputation spread quickly after completing that project".
ENCHANTMENT OF THE SEAS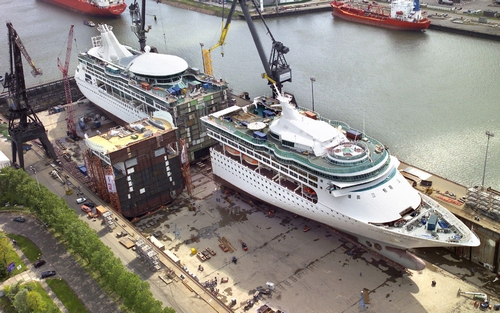 In 2005, ALMACO embarked on a new venture involving the then eight-year-old Enchantment of the Seas. RCCL required more cabins and public spaces, leading to the decision to split the ship in half and add a 72-foot mid-body section. ALMACO served as the primary contractor for outfitting the new block. One could say this is where ALMACO took its first steps into the newbuild world.
Uffe remarks, "We built new cabins, galleys, bars, and completely revamped the entire vessel to ensure its serviceability for decades to come. I would like to quote Mikael here, who said; "Considering the size of the company we were during this project, it was truly an achievement to carry out a project of this size successfully. Even today, there are not many companies capable of conducting projects like this, other than ALMACO of course." Uffe continues; "I also want to point out that we managed over 500 workers from 23 countries during the project. The project started with the vessel going through a hurricane on its way from Miami to Rotterdam and still we finished the project in record time. It's safe to say that this was our largest and most difficult conversion projects to date. One of our significant challenges was outfitting an area split between the new block and one of the old sections. The project was seen as crazy and impossible by many, but deep down we knew we could pull it off."
The company gets another leg to stand on and expands to new segments
The biggest milestone in ALMACO's history happened in 2005 when the company acquired the Food Handling unit from MacGregor Group. MacGregor, now owned by Cargotec, underwent a restructuring, where all other products except cargo handling products were to be divested. The elevator unit was sold to KONE and the Food Handling unit, was put up for sale. This is when Vilhelm, "Ville", Roberts, who is also Uffe's son-in-law and Mikael's brother-in-law, entered the ALMACO scene.
t that time, Ville was leading MacGregors's Passenger Ship Division. He and a few others in the management team of the division thought the Food Handling unit had great potential and started contemplating the possibility to purchase it. While discussing the idea with Mikael, they realized that the unit in fact would be a valuable addition to ALMACO. Uffe laughs and says, "Once again, some intense and long discussions and debates took place, which resulted in the decision that ALMACO would acquire the unit and establish a Catering Systems division." The company also welcomed Ville as one of the major shareholders and the new CEO of the company.
As a result of the new acquisition, ALMACO founded a new subsidiary in Nantes, France. "Along with Ville, a lot of other brilliant people from MacGregor joined ALMACO and a substantial portion of our current staff has backgrounds rooted in MacGregor. I especially want to mention Guillaume Faysse, currently CFO at ALMACO, who joined the company together with Ville and still plays a vital role in the management of our company", Uffe adds.
"Merging two companies was not always easy", Uffe admits and continues, "but we eventually managed to fit the pieces together and we are very happy that we did it. The decision has been very profitable for ALMACO as it diversifies our portfolio and provides stability for the company." The new division meant that ALMACO could cover almost all hotel areas of a ship, from upper deck cabins, suites and restaurants to lower deck catering areas. Later on, ALMACO also added laundry areas to its scope and has expanded its expertise from refurbishments and modernizations to full turnkey newbuilding and the complete lifecycle of the ships. While the companies first projects where on cruise ships, ALMACO quickly added other segments as well and expanded to offshore vessels and accommodation rigs, expedition vessels and passenger ferries.
Born Global
In the beginning, ALMACO valued a hungry and enthusiastic team and selected well-educated, multilingual individuals with an international mindset to the new team. This approach was essential in dealing with complex projects all around the globe. The early team's dedication and resilience were instrumental in ALMACO's early successes.
ALMACO's global approach set them apart from the beginning. "We embraced internationalization and established an office in Florida, which was "the capital of cruise business", shortly after the Finnish headquarters", Uffe explains. ALMACO's ability to adapt quickly and work globally earned the company recognition, even receiving the "Born Global" award in 2006. "Being born global is something that we are particularly proud of and something that I always mention when asked what's special about ALMACO. It didn't take many months to get the boys out of my walk-in-closet and into a real office in Florida", Uffe laughs as he says. And the trend didn't stop there. 25 years later ALMACO has delivered projects and served customers in over 70 different locations around the world and has established offices in nine different locations: Brazil, Canada, China, Finland, France, Germany, Italy, Singapore, and the USA.
The President's Internationalization Award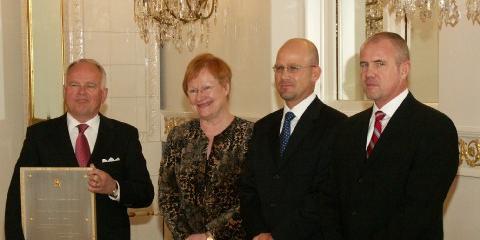 From left to right: Ulf Hedberg, President of Finland – Tarja Halonen, Mikael Hedberg and Vilhelm Roberts.
Another significant achievement was the President's Internationalization Award that ALMACO was granted in 2007. This prestigious honor acknowledged ALMACO's commitment to being a global company, contributing to Finland's reputation for international business success. "Meeting and being awarded by the President of Finland sure was a memory for life", Uffe notes.
In it for the long HAUL and healthy growth
ALMACO is a family business, and family businesses tend to think long-term to ensure future generations will have something left. "We have always been against selling to external investors", Uffe says and continues; "Such investors often have short-term perspectives and want to make fast money and exit after a few years. This can disrupt a company's long-term vision and healthy growth."
Uffe wants to give extra credit to the members of his family, who always showed their support even when things were tough. "The support of our spouses and other family members has been crucial for ALMACO's existence and success. They had to be ready to move, stay flexible, take on responsibility for our families, tolerate uncertainty, and embark on new adventures in new surroundings with new schools, communities, and friends. It wasn't always a picnic in the park for them either and we are very grateful for their support."
ALMACO, now as the third generation of family members are among the co-owners, values long-term vision, growth, and stability. "We want ALMACO to be a good, safe, ambitious, and inspiring workplace for all members of our international team, not just for the owners. We are constantly learning and trying to improve to make ALMACO a great workplace that attracts and retains the best talents and colleagues. It's important to stay humble, listen, leave our egos outside the room, and learn from mistakes", Uffe points out. "The journey will never be a straight line upwards without mess and complications. Life in general isn't, so how could business work like that? But maybe that's what keeps it interesting", he adds.
The Metamorphosis of ALMACO
ALMACO, like any other company that grows from a start-up to an almost 200-employees company, has undergone several stages of metamorphosis. However, some things have stayed the same. The culture has always kept encouraging giving responsibilities to employees, often early in their careers, providing room to grow. ALMACO's employees are carefully selected, focusing on well-educated individuals with strong language skills and international experience and mindset. "I feel very proud of the people that work for our company. They are the best experts in their respective fields", says Uffe. He continues, "Many of them have been with the company for decades, some even from the very early days, and they have grown and sharpened their skills at ALMACO".
ALMACO's journey expanded from cabin modernization to full turnkey newbuild projects. "Along the way, we have demonstrated our ability to learn new things and handle not only modernizations, but also newbuilds and lifecycle services, and we have become a comprehensive solution provider for cruise ships. Today, we continue to thrive in the same business along with several new customer segments, continually improving and expanding our offerings. It is an honor and privilege to have had the opportunity to take part in the exciting adventure that is ALMACO. I see a great future for the company for many generations to come, Uffe concludes.
For more information, contact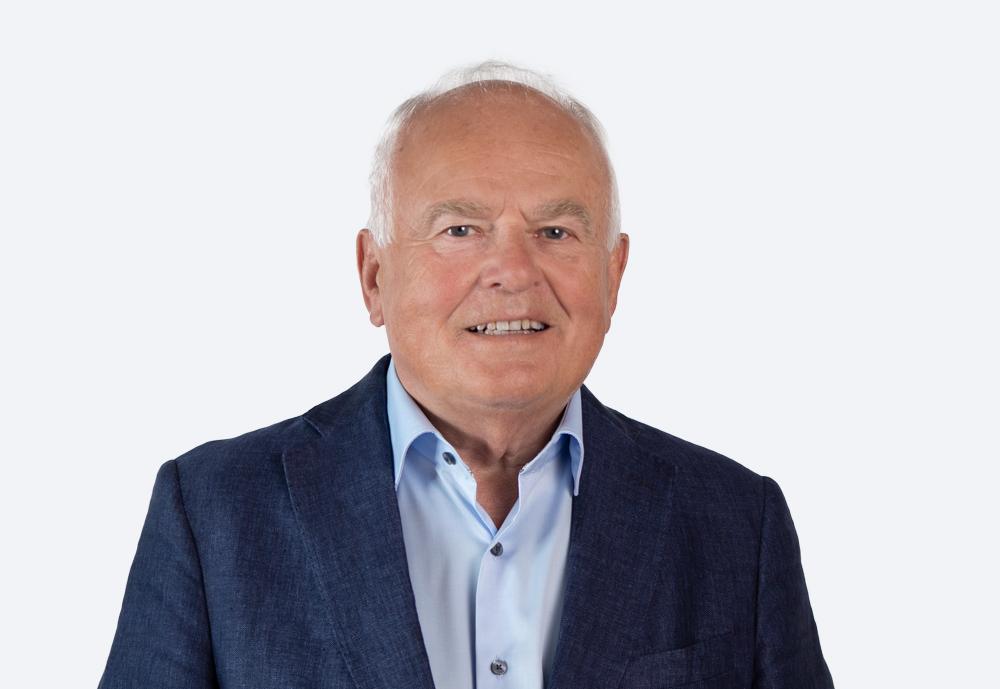 Ulf Hedberg
Executive Vice Chairman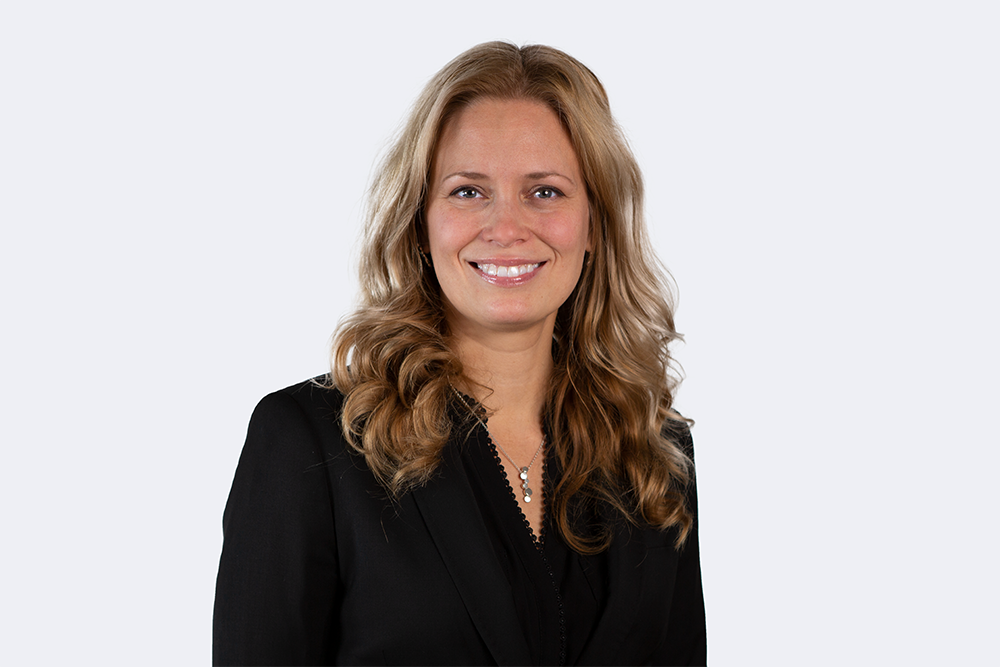 Hanna Långström
Vice President, Marketing
About ALMACO Group
ALMACO Group is a full turnkey provider for Newbuilding, Modernization and Lifecycle services of Accommodation, Catering and Laundry areas for the Marine and Offshore industries. ALMACO builds, refurbishes and serves complete interiors and hotel areas of marine vessels and offshore units including galleys, provision stores, refrigeration machinery, laundries, public spaces, as well as complete living quarters. ALMACO works with owners and builders around the world providing full turnkey solutions comprising design and engineering, project management, construction, spare parts, and maintenance. ALMACO was founded in 1998 and has offices in Brazil, Canada, China, Finland, France, Germany, Italy, Singapore, and the USA. 
READ MORE
Company
13.11.2023
ALMACO Group celebrates 25 years of excellence in marine and offshore industries
ALMACO Group, a leading provider of accommodation and catering solutions for the marine and offshore industries, is proud to announce its 25th anniversary this year. Founded in 1998, the company has …
Read more »
Blogs
28.12.2022
New year's greetings from ALMACO's CEO, Björn Stenwall
It's that time of the year when our CEO and President, Björn Stenwall, reflects on the year that has passed and the year that we have in front of us. 2022 was a turbulent year and Björn expects t…
Read more »
Company
24.5.2022
ALMACO Group expands to Canada
Québec, Canada – May 24, 2022 – ALMACO Group, world leader in turnkey solutions for the shipbuilding industry, chooses Québec City to settle its first subsidiary in Canada. ALMACO Group provid…
Read more »