20 years of digitalizing service and processes at ALMACO
---
In this interview with Tero Rantanen, he shares the story of his career and how ALMACO started its digitalization journey as early as over 20 years ago. The visions were grand already back then. Today, many of them have become reality.
Where did your journey at ALMACO begin?
It all started a late evening at a bar called Blue Martini in Miami, Florida. That was where I met up with Mikael Hedberg and Antti Kaskinen for the first time for an informal interview. A few ex-colleagues of mine, who were then working for ALMACO, had recommended that they consider me for a Project Manager position.
At that time, I was working in Finland and only had three days to spare for the trip across the Atlantic Ocean and the interview. During the very jetlagged meeting, Mikael and Antti told me inspiring stories about the adventures of working for the international, ambitious, and progressive company. They persuaded me to quit my job and join their team to start managing projects and, later on, to help digitalize ALMACO's facility management services.
I was very impressed with what I heard at that meeting. It was two decades ago, but they had already realized the importance of digitalizing our business and services – something that the market wasn't quite ready for back then, but most certainly is now. The visionary mindset, agility, and short chain of command in the company attracted me. These traits still remain a part of ALMACO's DNA today.
What did the digitalization of marine facility service look like back then?
When I came to ALMACO, Mikael Hedberg had already started a project with Royal Caribbean Cruise Lines to help them digitalize the accommodation areas onboard their cruise ships. The goal of the project was to help RCCL take advantage of their facility and equipment data in order to save costs in maintenance and service. After two years in the company, I transferred from project management to IT system development and thereby joined this digitalization project.
We were still living in the age of paper filing systems, so we collected all the necessary files from RCCL's office and the yard STX in Turku. The files filled a whole room from floor to ceiling. After that, we just started feeding the data in the paper files manually into a computer system. It was a huge and labor-intensive job. Our IT Expert, Risto Pönni, who by the way also still works for ALMACO, developed a new revolutionary platform called Product Database / FM Tool. This tool is still partially in use today and the data can be exported to Amos, a platform that is widely used by shipowners. The amount of data that the system withheld was enormous and all involved were very impressed with it. At that time, systems like these were very rare in our industry.
Many of the shipowners that we worked with had their offices in Florida, USA. After traveling back and forth between Florida and Finland every second month, I and my family decided to move to Florida. After 15 years overseas, I decided to move back to Turku, Finland, where I am based as we speak. Moving around between continents is not an unusual story at ALMACO. A lot of my colleagues have the same experience and just like the company itself, we consider ourselves world citizens rather than just citizens of our birth country.
How did the digital system evolve with time?
At first, the platform mainly contained lists of equipment with basic information. With time, it evolved to entail more and more technical information about, not just the equipment, but also about the surrounding areas. The ship owners could find lists of spare parts, maintenance plans, budgets, schedules, safety information, cleaning advice, reports, notifications, and alerts, … you name it.
One of our favorite creations was the "Electrosonic" maintenance tool. Although it only contained a fraction of the data, it had advanced features like planned maintenance scheduling, work orders, logging and commenting of maintenance, spare part replacements, etc. This system was technically brilliant, but the biggest challenge commercially was and still is that the people that use it don't always have internet.
This was all in a time before sensors and remote smart devices. Teams of experts regularly entered the ships for a week at a time to do thorough on-site condition inspections. They systematically entered every single cabin that was unoccupied to check them individually. They interviewed housekeeping and reported everything they found, not just what they originally came to check. The areas were scored from 0 to 100 and divided into yellow and red zones depending on how acute the service intervention was. The learnings from inspecting the ships were used for creating optimally scheduled maintenance plans for the whole fleet.
What happened when ALMACO's scope grew from accommodation areas to include catering areas?
ALMACO experienced its biggest transformation in 2005 when it acquired the Catering Division from MacGregor. We merged their digital service system for catering areas and equipment with the Product Database that we were using. This gave us a company-wide service tool, still named Product Database, that our Service team still uses. Nowadays the tool has evolved to include more advanced solutions.
Our current digital best-seller is our GEM – Galley Energy Management tool, which helps shipowners monitor and control their galley equipment and energy consumption. We are also working on another big digital innovation that I can't reveal more about just yet.
Where do owners benefit the most from the digital tool?
The biggest perk that the shipowners notice is that the inspection teams are able to prevent expensive breakdowns before they happen. Convenience and cost savings are the main benefits that our Service team strives to bring to our customers. We can see that the system works at its best when the whole fleet is handled in the same system, so that's what we recommend for our customers.
Although the biggest benefits lie in overall convenience, efficiency, and cost savings, they also lie in the smaller details. I remember a case with balcony cabins that had tables with metal legs. In an inspection round, our team noticed that the passengers tended to move the tables outside to the balconies, which made the metal legs rust. After reporting this, the owner decided to change the plan and use weatherproof tables on the sister ships. Information like this seldom becomes visible and actionable knowledge without fleet-wide digital service systems. There are so many steps and people involved from housekeeping and maintenance all the way to the architects, designers, and purchasers.
Information easily gets lost on the way without a good digital service and reporting system. But that's not the only challenge here. Who is actually in charge of considering cross-department cost savings? Sometimes an expense in one department can mean a big saving in another department. In the example before with the tables, it meant an additional cost for the owner to adjust the plan and exchange the tables. But this expense was saved many times over in repair and service costs. The bigger a company is, the more difficult it is for people in their respective departments to see the holistic cost and budget perspective of the whole company. It takes a company-wide tool that considers the whole lifecycle of the fleet to achieve this.
What is your vision for the future of marine service tools and procedures?
I think the basics will remain the same. It will still be all about gathering data and turning it into information that we can analyze and convert into actionable knowledge. The difference is how we do it. Instead of relying solely on physical inspections, we can gather data and perform service remotely. The digital systems will become more evolved and artificial intelligence will be part of the creation of service plans, design, and engineering.
At ALMACO, we are in the middle of a huge ERP system upgrade at the moment. We have big visions of the doors this will open for us and our customers in the future. The upgrade will not only improve our internal systems and processes, but it will also improve our customer service, product development, project management, and allow new kinds of business models with our customers, suppliers, and partners. It's a challenging project, but I am genuinely excited to see what possibilities this new system will bring that we haven't even thought of yet.
Generally, I think the trend in the industry is moving toward new business models, like e.g. area and equipment leasing models. Outsourcing the whole package is convenient and reduces risks for the owners. We can also already see that service and maintenance will be partially performed with the help of 3D models and virtual reality in the future. Technical experts can use this technology to instruct crew members onboard to do minor repairs themselves instead of sending in separate teams. When it comes to concept creation, design, and engineering, 3D models and virtual reality are already important tools, not only for internal processes, but for offering the customer a chance to experience the areas before they exist and try out different layouts, workflow models, styles, and color schemes.
What does the future hold for you?
I have been working for ALMACO for 20 years now. I hardly need to tell you that the decision that I made that evening, jetlagged at the Blue Martini bar, turned out to be the right one. If I remember correctly, I was the tenth employee when I came. Now we are over 180 people. The company has grown, and the business processes have grown with it. Still, the core and mindset of the company remain the same. I hope I will keep "making the impossible, possible" together with the rest of the Almaconians for many years to come.
For more information, contact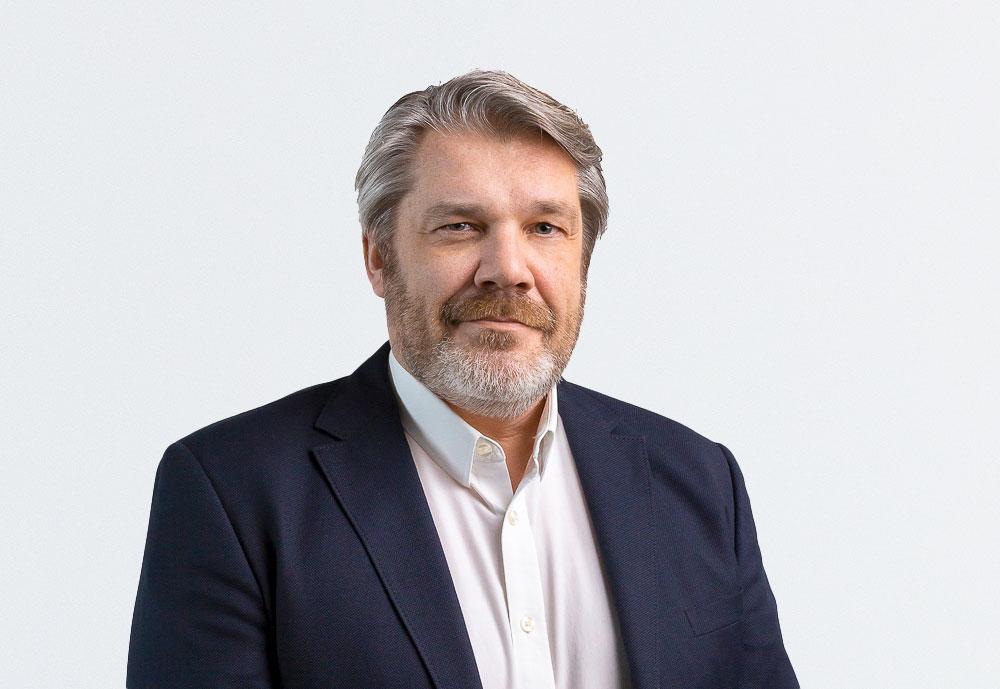 Tero Rantanen
Vice President, Technology & Business Process Management
first.lastname@almaco.cc
READ MORE
Company
8.3.2023
ALMACO hires new CDO to develop digital services
ALMACO's goal is to offer our customers the best solutions and digital services for marine and offshore catering and accommodation areas. Let us introduce François Maugis, our new Vice President and…
Read more »
Blogs
14.8.2022
Lifecycle concepts that reduce costs and carbon footprint
New business models are being adopted in the marine industry to increase efficiency, minimize risks, lower costs while ideally minimizing carbon footprint at the same time. One of these models is the…
Read more »
Blogs
2.3.2021
Guide to Digitalization of Hotel Areas in the Marine Industry
Some might say that the marine industry is a slowly moving dinosaur, but I beg to differ. When it comes to complying with strict regulations and standards, the marine industry is at the top of the li…
Read more »